Funny story: I stumbled upon this cake recipe by accident. I'm scrolling down after watching a tutorial on YouTube about cake textures, and what should catch my eye but the most beautiful cake I've ever seen! Naturally, my first thought was that it would be too complicated to make myself, but the complete opposite turned out to be true: this is actually one of the simplest cakes I've ever made!
This cake is made using a technique called "bas-relief". To give you an idea of how simple and fun it is, I've already used it three times. The only items you'll need are a silicone mold of your choice, fondant, and edible dust (I recommend gold or silver). Oh, and patience. This technique may be simple, but that doesn't mean it won't take time! 🙂
Cover your cake with buttercream, then put it in the fridge. While you wait for the cake to set, take out your fondant, cornstarch, and molds. Dust your molds with a little bit of cornstarch to prevent sticking, then make the shapes you want and start pressing them into the cake. There are no hard and fast rules here, so go nuts! 🙂
If you need ideas, this is my favorite silicone mold ever, and it's a perfect choice for this technique:
https://www.etsy.com/listing/597980853/big-flower-set-silicone-cake-mold
I've also used this one, which works equally well: https://www.amazon.com/Funshowcase-Assorted-Sugarcraft-Decoration-All-purpose/dp/ B0746KKPX9
I personally prefer the leaves in gold or silver, but you can make them any color you want! 😉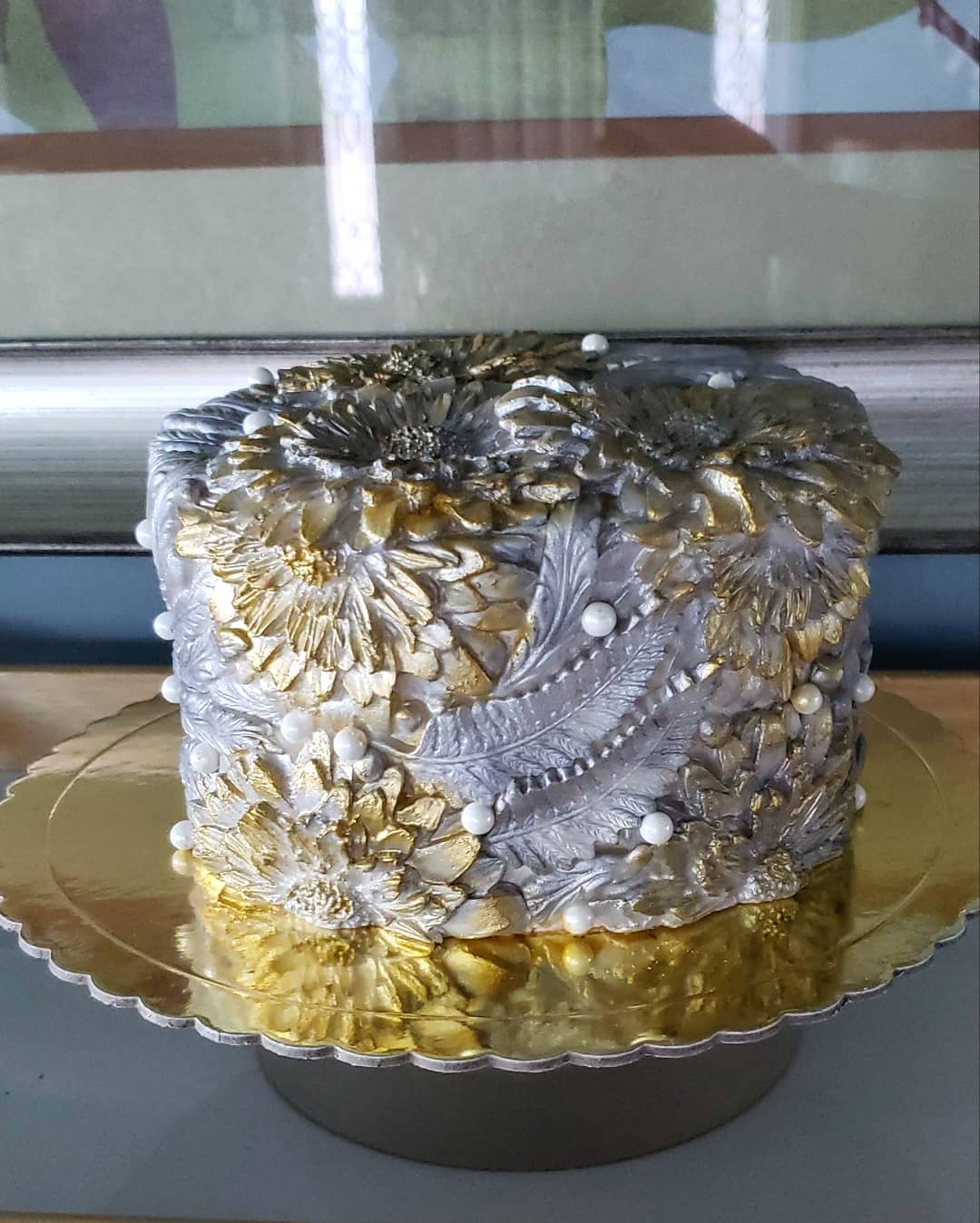 What's a decorative cake without fondant, right? For this step, you have two choices: you can take the easy route and buy some at Michael's, or you can choose the cheaper option and make it yourself. 😉 I've tried several different recipes and this is the one that works best for me (no marshmallows required). 🙂
I highly encourage you to try this technique for yourself! Not only will you have fun making the cake, but all your guests will definitely be amazed by the final result. It's a win-win!
FONDANT:
○ Ingredients ○
4 cups powdered sugar
1/4 cup cold water
1 tablespoon powdered jello • 1/4 cup glucose
1 1/2 tablespoons glycerin
1/4 cup shortening
1/2 teaspoon vanilla
○ Procedure ○
Mix the gelatin and cold water in a small saucepan and let it swell for a couple of minutes.
Place the pan on a double boiler and mix the jello until dissolved.
Add the glucose, glycerin, and shortening. Mix until the shortening melts, then add the vanilla.
Remove from heat and let the mixture cool until lukewarm, then add half the powdered sugar. Mix well with a wooden spatula until combined.
Pour the other half of the sugar onto your work surface. Make a well in the center and pour in the jello mixture.
Knead everything together until the fondant is smooth and doesn't stick to your fingers. If the fondant is too soft, add more sugar; if it's too stiff, add a little water.
If you don't use all your fondant immediately, cover the remaining mixture with plastic wrap and store it in an airtight container.