I partnered with the German cookie company ,,Bahlsen" to create content featuring an assortment of their cookies. Bahlsen makes traditional German cookies, but you can buy them at most stores in America. My idea was to create a recipe for cupcakes that include their delicious cookies. I admit I had so much fun with this project that I wondered how I'm actually getting paid for this! The funny thing is that I didn't even know they existed before, but now I want to try every single one of their products! When you discover quality like this, you can't go back. I'm officially hooked! 😀
I'm especially proud of this recipe and design because they're unique. The filling in the cupcakes is simultaneously creamy and crunchy. I think it's safe to say I used the cookies wisely! 😀
There are a couple of ways you can tweak the recipe to suit your taste:
If you don't like the crunchy texture, put the cookies in the chocolate ganache while it's still warm. Wait for it to cool, then add the cream cheese.
If you don't like buttercream frosting (I love to use it on everything :)), you can use heavy whipping cream instead.
This is my favorite cupcake decoration ever: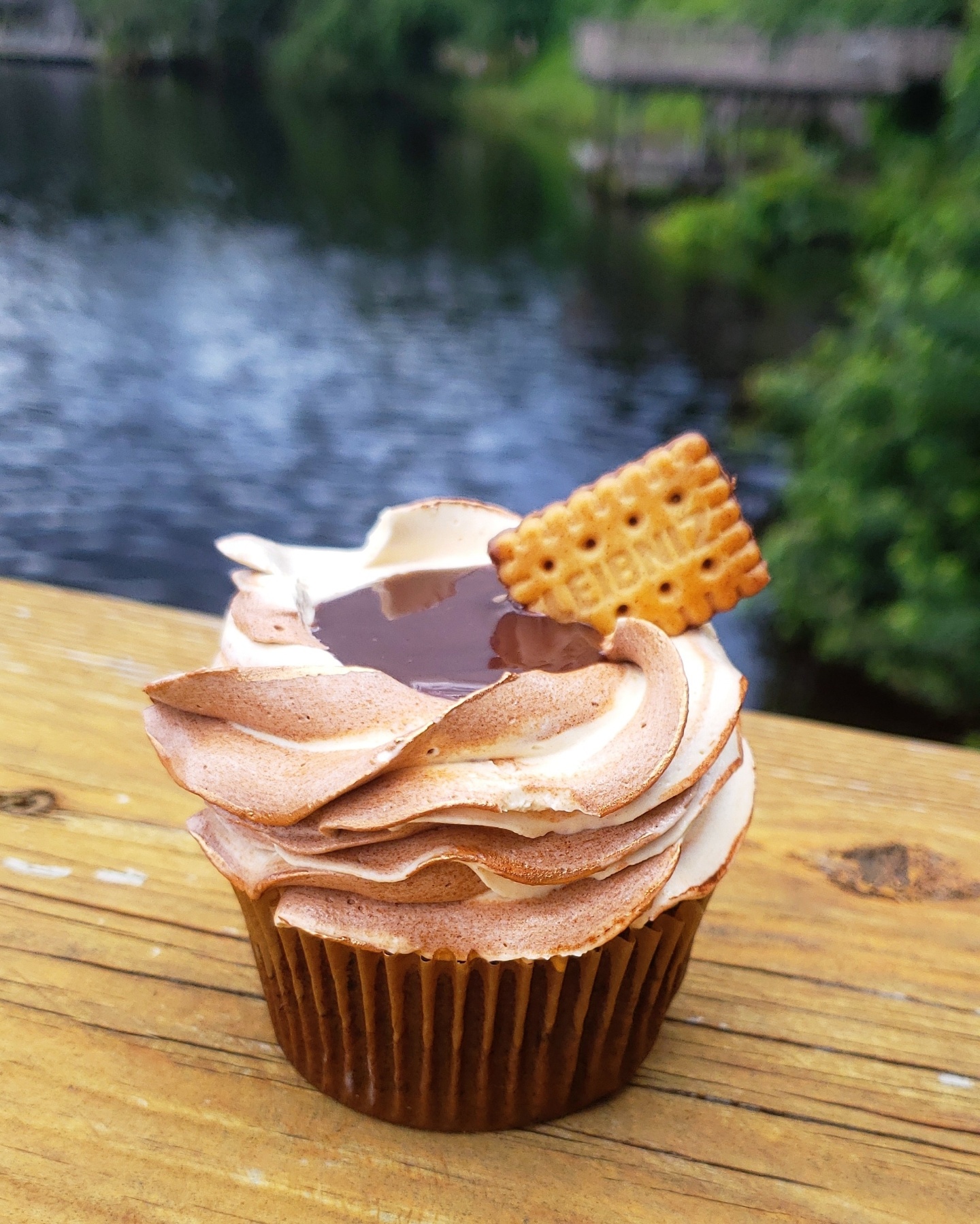 Looks delicious, doesn't it? The melted chocolate really gives the cupcake extra flavor! Yum! 🙂
So what are you waiting for? Try my recipe with these amazing cookies for yourself! You can thank me later. 😉
○ INGREDIENTS ○
<Cupcakes>
1 stick butter (116g)
1 cup milk (250ml)
1 teaspoon vanilla
4 tablespoons dark cocoa powder (20g)
70g sour cream
1 egg
1 cup sugar (230g)
2 cups + 2 tablespoons flour (280g)
1 teaspoon baking soda
1/2 teaspoon salt
<Filling>
2/3 cup heavy whipping cream (160ml)
1 1/4 cups semi-sweet chocolate chips (220g)
250g Philadelphia cream cheese (room temperature)
100g chopped Choco Leibniz Minis cookies
<Frosting>
2 sticks unsalted butter (220g, room temperature)
2 cups powdered sugar (250g)
1 teaspoon vanilla
1 tablespoon heavy whipping cream
○ PROCEDURE ○
Preheat the oven to 350°F. Line your cupcake pan with cupcake liners.
In a small saucepan, melt the butter. Add milk, cocoa powder, and vanilla. Set aside to cool slightly.
In a small bowl, mix the egg and sour cream.
In a slow stream, whisk the chocolate mixture and the egg mixture together.
In a medium bowl, sift the flour, sugar, baking soda, and salt.
Make a well in the center of the flour mixture and pour in the wet mixture. Whisk until combined.
Fill the cupcake liners up to three quarters.
Bake the cupcakes for 17 minutes.
After 17 minutes, test the cupcakes with a toothpick. If they come out with a few moist crumbs, the cupcakes are ready.
Move the cupcakes to a cooling rack to cool completely.
In a small saucepan, heat the heavy whipping cream to boiling point.
Remove from heat and add chocolate chips. Wait for 5 minutes, then stir until combined. Set aside to cool slightly.
Mix the cream cheese and combine it with the chocolate mixture.
Add chopped Choco Leibniz Minis cookies. Mix until combined.
Mix the butter in a stand mixer at medium speed for about 4 minutes until it's smooth and lighter in color.
Add powdered sugar half a cup at a time. After each addition, set the mixer to the highest speed.
Add vanilla and beat until combined.
Add heavy whipping cream and beat until everything is incorporated.
Bonus: For an added flair, garnish each of your cupcakes with a Choco Leibniz Mini cookie.And that's my recipe for Choco Leibniz cupcakes!
I'm sure you'll love these sweets, but fair warning before you try them: you'll probably fall in love with Bahlsen's cookies as much as I have! Enjoy! 😀