Mother's Day is just around the corner, and I'm super excited to show you our Mother's Sweets Day boxes! The first one isn't finished yet because I'm still waiting for the "I Love You, Mom" stencil to arrive, but once it's done, it'll be the beautiful centerpiece of the box!
The sweets in the first box are almost the same as the ones in our Variety Sweets Box, with one small change: I replaced the strawberry chiffon cake with a cake from my childhood. My mom used to make this cake all the time, and I always loved how refreshing and tasty it was! This is actually one of the first cakes I ever learned how to make, and we made it together many times. It's a fruit cake with strawberries, ladyfingers, and a heavy whipping cream/sour cream filling. I swear it tastes like summer! ☺
I'll share the recipe for this cake with you soon. It's so easy and quick to make, plus you'll always have something sweet in your fridge! If you're a working mom with zero free time like me, I'm sure you'll love it! 😊
Sweets Box and Cupcakes Pack
I struggled a little with the design of this box. I had so many ideas that it was hard to choose only one. What else would you expect from a Libra?
Still, I'm sure I chose wisely. Nothing is excessive and the box is cute and elegant. I know your mom will love it!
Note that the chocolate tart in the middle is getting a makeover, so it's the only dessert that will look different in the final version. Everything else will look the same.
We will also offer two other boxes, so you'll have more options for your beloved mom!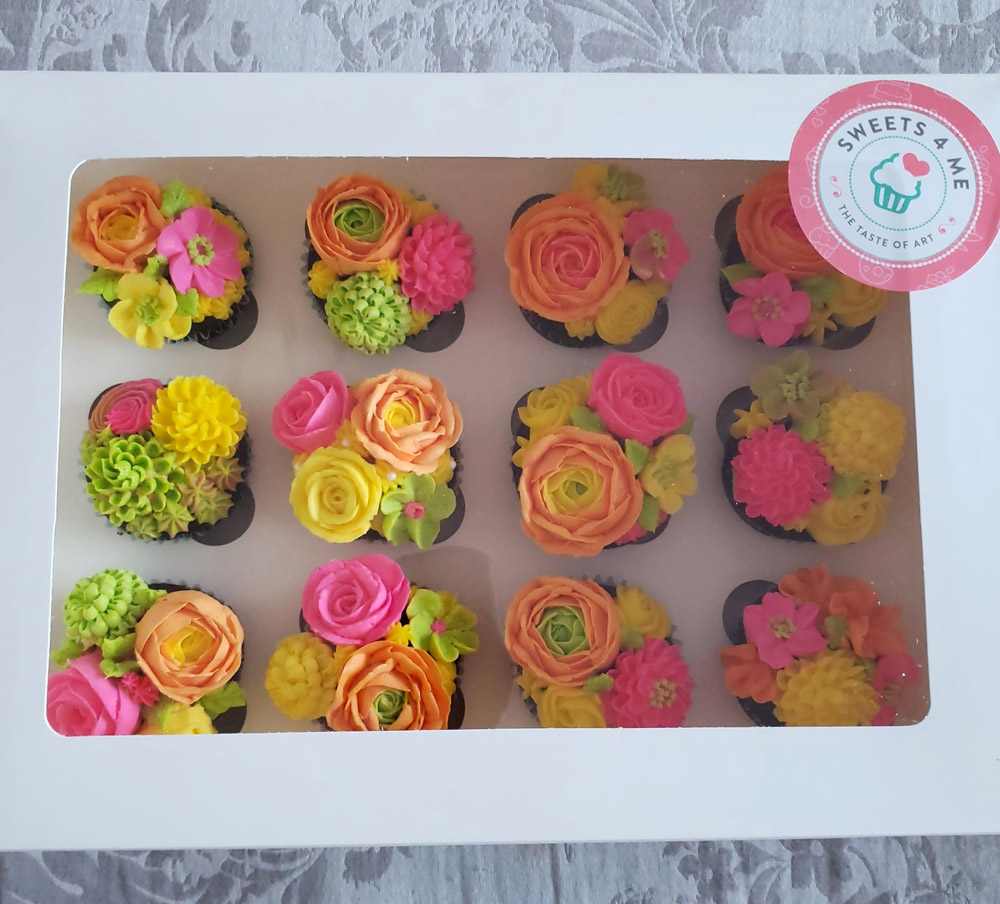 Yep, these are cupcakes! 🙂 Don't they look pretty? 😍 These boxes will come in two sizes:
A big Mother's Day Flower Cupcakes Box contains 12 cupcakes.
A small Mother's Day Flower Cupcakes Box contains 6 cupcakes.
The cupcakes come in chocolate or vanilla. Your mom is sure to love them both! Enjoy!
On a final note, although my mom won't be here with me this Mother's Day, I'll still make something special for her. After all, she did put up with me my whole life, so she deserves only the best! I love you, Mom! Happy Mother's Day! ❣